Upcoming events 2022 – check back often
---
Special Crystal & Mineral Show w/ Jerry Marchand!
Join us Saturday October 22nd 10am-5pm and Sunday October 23rd 10am-4pm
"For some festive fun, wear your Halloween Costume for a free gift!"

Jerry Marchand is a geologist and miner with some of the finest Crystals, Rocks and Minerals in New England as well as specimens imported from all over the world. Jerry is a legend in the rock and mineral world and has a vast knowledge of crystals and their many uses. He will be bringing some of his latest finds in a variety of sizes. These crystals provide beauty, healing, and connection to our Mother Earth! Jerry will also have several of his musical CD's available for purchase including his peaceful celtic harp, flute, violin, guitar, and hammer dulcimer music!
Come join us for a spectacular presentation from Jerry's collection!
Click here for more information
---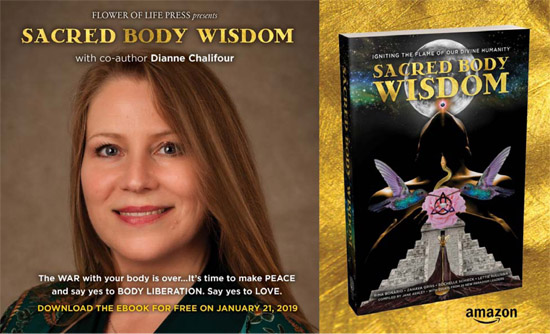 Pick up your copy of " Sacred Body Wisdom, Igniting the Flames of Our Divine Humanity" in Oasis Shoppe. This collaborative book of 20 new paradigm women is a treasure of deeply intimate stories of what it means to walk the path of Devine Feminine embodiment. These stories will touch you and awaken in you your own story! Dianne Chalifour, Earth Harmony Wellness owner, is honored to be one of the contributing authors in this Amazon bestseller.  In her chapter she shares about uncovering deeper, hidden layers of wounding from her own lineage and how our collective tapestry connects us to one another through shared experiences. Her journey through physical pain opened up a deep and profound healing that she openly shares.
---
If you wish to be notified of our events, sign-up to receive periodic emails. Your email is never shared.
Earth Harmony Wellness 66 Third Street Dover, NH 03820 Phone: (603)834-9994