Oasis Retail Shoppe
Special Crystal & Mineral Show w/ Jerry Marchand!
Join us Saturday October 22nd 10am-5pm and Sunday October 23rd 10am-4pm

Jerry Marchand is a geologist and miner with some of the finest Crystals, Rocks and Minerals in New England as well as specimens imported from all over the world. Jerry is a legend in the rock and mineral world and has a vast knowledge of crystals and their many uses. He will be bringing some of his latest finds in a variety of sizes. These crystals provide beauty, healing, and connection to our Mother Earth! Jerry will also have several of his musical CD's available for purchase including his peaceful celtic harp, flute, violin, guitar, and hammer dulcimer music!
Come join us for a spectacular presentation from Jerry's collection!
Click image for a larger view
---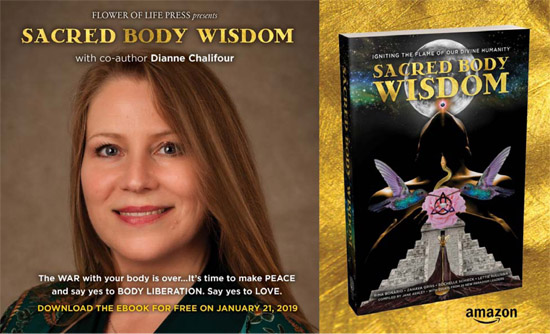 Pick up your copy of " Sacred Body Wisdom, Igniting the Flames of Our Divine Humanity" in Oasis Shoppe. This collaborative book of 20 new paradigm women is a treasure of deeply intimate stories of what it means to walk the path of Devine Feminine embodiment. These stories will touch you and awaken in you your own story! Dianne Chalifour, Earth Harmony Wellness owner, is honored to be one of the contributing authors in this Amazon bestseller.  In her chapter she shares about uncovering deeper, hidden layers of wounding from her own lineage and how our collective tapestry connects us to one another through shared experiences. Her journey through physical pain opened up a deep and profound healing that she openly shares.
---
"Something serving as a refuge, relief, or pleasant change from what is usual, annoying, difficult, etc."
definition from dictionary.com
Oasis retail shoppe is within Earth Harmony Wellness Center.
With the expansion of Earth Harmony Wellness, the guidance given to Dianne from her spirit guides was to include a retail shoppe. This is a place where people can feel comfortable to explore different paths to healing and wholing.  We recognize that the path to wellness and wholeness is often complimented by transformational tools and products. Tools of many origins are featured in the shoppe in recognition that the path to wholeness is achieved through nurturing the mind, the body and the spirit of self.
We carefully and thoughtfully choose items to assist with many aspects of wellness. Much of the offerings in Oasis are obtained direct from the healers/artisans themselves, from fair trade wholesalers or other sustainable resources and networks. Most often, there is a deep sacredness in the entire process. The artist who has come to a place of deep wisdom for the sacred call to offer this "tool" into the world, to the consecration ritual and ceremony created through the creative endeavor, all the way to our connections which are often from healing circles of various types.
Oasis was the name given to Dianne shortly after the guidance came through to include a retail shoppe. She was half being sarcastic with her guides when she said "well if you want me to do that then you better start giving me some ideas of what you want it called" (thinking she'd be stuck if she relied on her ego self to come up with the name). At that very moment, Dianne was pumping gas and looked up in time to see a very large white truck with "OASIS" in huge letters across the side.  Bam!  The info dropped in just like that! Dianne recognized immediately this was the guidance. However, as the ego mind does, over the next couple days she began questioning the guidance and asked for a clear confirmation. It showed up. As Dianne was sorting through an old box after her recent relocation, a business card from a beauty salon from over fifteen years prior fell out, named "Oasis".
Here at Oasis, we are knowledgeable about the products we carry. We can assist in matching the right tools for the need. Perhaps as a unique, healing gift for a loved one or for yourself. Feel free to come in and browse around, and follow your own guidance as to what speaks to you. It is our deepest desire that you will find Oasis to serve as your "refuge, relief or pleasant change from what is usual".
Some offerings in the shoppe include:
Sound healing tools such as ceremonial rattles, tingshas, singing bowls, drums
Crystals and gemstones
Holy anointing oils, essential oils
Flower Essences
Statuaries  
Journals
Candles and incense
Meditation cushions, eye pillows
Meditation CD's
Books
Himalayan Salt Lamps
Bath Salts
Herbal products
….. And much more!
Oasis Shoppe hours at Earth Harmony Wellness:
Holiday hours
Monday closed
Tuesday - 12 - 6p
Wednesday- 12-6
Thursday 12-7
Friday 11 - 6p
Saturday 11 - 5p
Sunday 12- 4p
Please follow us on Instagram or Facebook for latest news and any scheduling changes
Walk-ins welcome during the following hours
If you are unable to visit during these hours please feel free to reach out for an appointment, this includes sauna appointments!
Reach us at 603.834.9994

Energy healing/clearing and massage sessions by appointment.
---
Earth Harmony Wellness 66 Third Street Dover, NH 03820 Phone: (603)834-9994