Welcome to Earth Harmony Wellness
Balancing Mind, Body and Spirit
We are located on the New Hampshire seacoast, just north of Portsmouth at 66 Third Street Dover, NH 03820
The center includes a retail shoppe "OASIS" offering transformational tools to assist in your spiritual journey for mind, body and spirit!

As well as an extensive array of crystals, gemstones and minerals plus many other tools, in "Oasis Shoppe", our wellness center offers energy clearing and healing sessions, spiritual/life guidance, infrared sauna, various workshops, divine feminine wisdom circles and meditations for all, to assist in your wellbeing and growth. We are here in service to your journey.
---
August Summer Specials!!
Sizzling Hot Sauna Special - (now in effect)
Purchase an 8 session pkg for 30% off single session pricing!! Best deal!
30 min 8 session pkg now $168!
45 min 8 session pkg now $252
Start your regimen now or stock up for cooler months and enjoy the immune boosting properties!
We strongly believe immune health is an empowered practice that begins with ourselves!
---
Special Crystal & Mineral Show w/ Jerry Marchand!
Join us Saturday August 21 & Sunday August 22, 2021 from 10AM-5PM*
as we celebrate 4 years in Dover!
Jerry is a geologist and miner with some of the finest specimens in New England.
Many of you have been asking when Jerry is returning. Be sure and mark your calendars!
Crystals and gem stones, most in their natural form will be for sale.
Drop in to see and touch the beauty from the mineral kingdom!
Plenty of Valentine options in Oasis Shoppe as well available for purchase!


*Please note there will be a limit on the amount of people allowed in the shoppe at a time. You may be asked to wait to enter, we appreciate your understanding.
Click image for a larger view
---
Summer Hours for the center are:
Tuesday & Wednesday 12-6pm
Wednesday through Saturday 11-5:30pm
Please follow us on Instagram or Facebook for latest news and any scheduling changes
Walk-ins welcome
Energy healing/clearing sessions by appointment.
If you are unable to visit during these hours please feel free to reach out for an appointment, this includes sauna appointments!
Reach us at 603.834.9994
---
Central to the mission at Earth Harmony Wellness is balance and harmony. We strive to create balance within ourselves thus contributing to the whole of the planet, recognizing we are all a valuable part which makes up the whole. We share both knowledge and skills through healing sessions and classes that help to facilitate healing within ourselves and the world. We realize that inner growth is an ongoing process that can always be nurtured further, and we will continue to search and expand ourselves, while serving others through Divine co-creation. We treat others the way in which we wish to be treated, with respect and kindness.
Disclaimer: The ideas and suggestions identified throughout Earth Harmony Wellness are not intended in any way as a substitute for quality medical care. Consult a qualified medical practitioner for any medical concerns.
---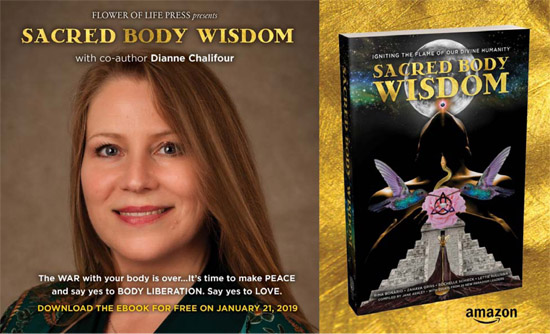 Pick up your copy of " Sacred Body Wisdom, Igniting the Flames of Our Divine Humanity" in Oasis Shoppe. This collaborative book of 20 new paradigm women is a treasure of deeply intimate stories of what it means to walk the path of Devine Feminine embodiment. These stories will touch you and awaken in you your own story! Dianne Chalifour, Earth Harmony Wellness owner, is honored to be one of the contributing authors in this Amazon bestseller.  In her chapter she shares about uncovering deeper, hidden layers of wounding from her own lineage and how our collective tapestry connects us to one another through shared experiences. Her journey through physical pain opened up a deep and profound healing that she openly shares.
---
Earth Harmony Wellness 66 Third Street Dover, NH 03820 Phone: (603)834-9994