Welcome to Earth Harmony Wellness

Balancing Mind, Body and Spirit
We are located on the New Hampshire seacoast, just north of Portsmouth at 66 Third Street Dover, NH 03820
The center has expanded to include a retail shoppe "OASIS" offering transformational tools to assist in your spiritual journey for mind, body and spirit!

We offer energy clearing and healing sessions, spiritual/life guidance, massage, infrared sauna, various workshops, divine feminine wisdom circles and meditations for all, to assist in your wellbeing and growth. We are very excited about the growth and expansion that will enable us to offer more that inspires and in service to your journey.
We are honored to welcome Shelley Macgregor to our wellness center! She truly brightens up the center with her loving presence! Learn more about Shelley here.
---
Earth Harmony Wellness is pleased to welcome Producer, Jeff Volk in the Screening of Award-Winning Film
Of Sound Mind and Body: Music and Vibrational Healing Winner of the Hartley Film Award through the Institute of Noetic Sciences
This compelling and evocative documentary explores the myriad ways in which music, sound and vibration influence every aspect of our being. Artfully portrayed interviews, demonstrations and performances with leaders in the fields of complimentary and energy medicine blend with vividly beautiful imagery and lush soundscapes to create a truly healing experience, while conveying a wealth of information about this rapidly evolving field. Highlights of this 72-min. program include interviews with Deepak Chopra, Bernie Siegel, Jill Purce, Steven Halpern, Kay Garnder, Rupert Sheldrake and Jonathan Goldman, amongst many others— plus an awe-inspiring segment demonstrating audible sound frequencies animating powders, paste and liquids into life-like flowing forms in (Cymatics)! This program features many types of therapeutic techniques that stem from antiquity, yet continue to be adapted to help alleviate our high-speed, high-stress lifestyles.
The event will be held Monday October 14, 2019 and starts at 6:00 with snacks provided by Roots Café & Juice Bar.
https://www.rootsdover.com/
The screening begins promptly at 6:30, Link to screening flyer info followed by a discussion with the producer. Admission is $15, and pre-registration is strongly advised!
Call Earth Harmony Wellness to register (603)834-9994 or Paypal at
http://earthharmonywellness.com/payments-for-services.html
For more information about this program and related articles visit www.cymaticsource.com.
---
SOUND HEALING
Full Moon Sound Healing Journeywork
Guided by Ben Carroll (more info at innerselfsustained.com)
Experience Sound Healing Journeywork on this powerful full moon as we come together to prepare to move into the huge shift for 2020!
Wednesday December 11, 2019 7-9PM
$35 preregistration // $40 at the door (preregistration encouraged and holds spot)
---
SAVE THE DATE!
Crystal show with Jerry Marchand returns on Sunday 11/10, 10AM - 5PM.
Drop in any time. Jerry is a geologist and miner with some of the finest specimens in New England.
Many of you have been asking when Jerry is returning. Be sure and mark your calendars.
Crystals and gem stones, most in their natural form will be for sale.
Drop in to see and touch the beauty from the mineral kingdom!
---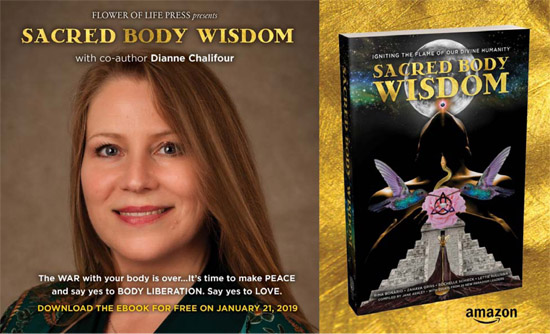 I am SO thrilled that our book" Sacred Body Wisdom, Igniting the Flames of Our Divine Humanity" is
an Amazon BESTSELLER!- you can get your ecopy here: https://www.amazon.com/Sacred-Body-
Wisdom-Igni…/…/B07MXXCS1K or beginning February 20th signed copies will be available for sale in
Oasis Shoppe within Earth Harmony Wellness. Click here for more info
---
NEW DATES:
The Divine Feminine: New Moon Sister Circle - Click here for more info
Guided Meditation for all - click here for more info
Teen Mediation - click here for more info
---
Our times have become increasingly tumultuous. We have undoubtedly entered a new era where the ways we have become accustomed to, are no longer the new norm. Nature is a model that is in constant motion, showing us the way to navigate changing times. Not only to survive, but to thrive. Trees cycle through seasons, shedding the old in order to open to receiving something new and alive.  They don't hold on to what was. In this modeling, we can tune into cycles such as these as a way to remind us that our own lives are constantly in motion, and through allowing life to flow we open up to everyday miracles, to abundance, a higher unfolding that is underway in each of our lives, and within humanity. All of that said, we need new ways of thinking, to release our expectations on what we anticipate based on previous experiences which leave our energy tapped and our being in states of often unmanageable stress.  This stress leads to a multitude of uncomfortable outcomes, and we can often times feel "stuck". We are in need of reprogramming our responses to our changing times, to be in more connectivity with ourselves and all of life around us.  At Earth Harmony Wellness, we are aware of this situation in our evolutionary process. We are here in dedicated service to the shifts that are underway.  We are feeling them deeply ourselves. And doing the work necessary to learn and to grow.  We are here in support of the journey. Part of our mission is to continually strive to being present with the flow of all of life around us, tuning in to what is being presented for our highest and best good. Constantly learning and growing ourselves. Through energy healing and clearing sessions, massage, infrared sauna sessions, meditation and various workshops, guest speakers and teachers, retail tools for mind, body and spirit, we are here to support you in these times. We are excited about supporting others and supporting humanities evolution into a new paradigm. A paradigm that is here to show us that LOVE is what is real, and constant, that there is an interconnectivity of life everywhere. We are not separate from the web of life, and never can be. Each one of us has a specific purpose. We are here to assist in tapping in to that Divine connection that is alive in every one of us. Clearing away all that is not serving in order to stand powerfully in our authentic selves is the passion that drives us forward into co-creating the future we all desire, and the future that desires for us to embrace it! There is work to be done, make no mistake about that. The sooner we accept that and get busy on what our specific part is, the richer our life, and that of those who will come after us, will be. There is a force in nature, inherent in all living things, one we cannot deny or suppress. Let us open the gates and allow this force to show us the way forward!  How can we be in service to your journey?
---
Hours for the center are
WALK IN HOURS:
Tuesday – 2:00 PM – 6:00 PM
Wednesday 11:00 AM – 6:00 PM
Thursday 11:00 AM – 6:00 PM
Friday 11:00 AM – 5:00 PM
Saturday 11:00 AM –5:00 PM
Energy healing/clearing sessions by appointment.
---
Central to the mission at Earth Harmony Wellness is balance and harmony. We strive to create balance within ourselves thus contributing to the whole of the planet, recognizing we are all a valuable part which makes up the whole. We share both knowledge and skills through healing sessions and classes that help to facilitate healing within ourselves and the world. We realize that inner growth is an ongoing process that can always be nurtured further, and we will continue to search and expand ourselves, while serving others through Divine co-creation. We treat others the way in which we wish to be treated, with respect and kindness.
Disclaimer: The ideas and suggestions identified throughout Earth Harmony Wellness are not intended in any way as a substitute for quality medical care. Consult a qualified medical practitioner for any medical concerns.
---
Earth Harmony Wellness 66 Third Street Dover, NH 03820 Phone: (603)834-9994